Associate Artists
FFDN invests in long-term relationships with choreographers, dancers and filmmakers at various stages of their creative development. We support Associate Artists with the resources to conduct in-depth research, leading to the creation of new work and to the realization of multiple performance and presentation pathways. We also contribute mentorship, professional development, and artistic connections across our network. These frequently multi-year journeys are structured to advance professional careers while deepening the FFDN audience's understanding of a spectrum of western and non-western dance forms and the ways in which work is created and presented.
Current Associate Artists:
John and Claudine Bailey Artists-in-Residence Natasha Powell and Kimberley Cooper
Renette and David Berman Filmmaker-in-Residence Vikram Dasgupta
Past Associate Artists:
Montreal's Anne Plamondon became FFDN's inaugural Artist-in-Residence in 2018. Already a contemporary dancer with an impressive international resume, Anne developed her choreographic voice with FFDN over two years. She created Counter Cantor with fellow Canadian Emma Portner, which premiered at FFDN 2018 and continues to tour across Canada and internationally. She created her first large ensemble work, Fiddle Embrace, performed at FFDN 2019, over the course of a full year with 18 of Canada's preeminent BFA students in The School of Performance Dance program at Toronto Metropolitan University.
Anne premiered a second large ensemble work, Yearning to Make a Difference, for Alberta Ballet in February 2020, which the Calgary Herald called, "an entrancing success."
Plamondon is a rising star with a promising career. She already shows impactful skill in allowing ideas and forms to create powerful, unforced narratives, without trying too hard to tell a compelling story. This is a rare gift.
- Calgary Herald
February 15, 2020
Natasha Powell and Kimberley Cooper are Fall for Dance North's 2021-2022 Artists-in-Residence, generously supported by John and Claudine Bailey.

Dedicated to establishing a new relevance for jazz dance in contemporary culture, Natasha Powell and Kimberley Cooper are working with Fall for Dance North and our education partner, The School of Performance Dance program at Toronto Metropolitan University, to focus on the art and history of jazz dance with Canadian and global perspectives. Their ongoing creative work is developed and presented under both the FFDN and School of Performance umbrellas.

Artistic Director, Natasha Powell founded Holla Jazz to reinvigorate jazz dance with its sister dances, including hip hop and house, as innovative and important vehicles for expression. Kimberley Cooper is the current Artistic Director of Decidedly Jazz Danceworks, established in 1984 to re-ignite an appreciation and love for the traditional values of jazz dance. By linking two artists from Toronto and Calgary respectively, FFDN is supporting and engaging in a cross-Canada conversation about the history and unique cultural relevance of jazz dance and music, and the future of the dance form.

As artists with a close association to FFDN, Natasha and Kimberley continue to impact our festival programming with their fresh ideas and perspectives, as they research and develop their creative practices and artistic works.
FFDN is honoured to have Kimberley Cooper and Natasha Powell be a part of our festival family as our Artists-in-Residence. We have had a ton of fun together digging deeper into the history and future of the jazz dance artform and investing in new creations and presentations, both in Toronto and Calgary. Their 2021 co-curated exhibition at Union Station was the first of many more projects to come!
- Ilter Ibrahimof
Fall for Dance North
Artistic Director
Upcoming
As part of FFDN's 8th annual festival taking place from Sep 17 - Oct 8, 2022 Kimberley and Natasha will each share a new dance work with their respective companies presented at The Theatre at the Creative School (formerly Ryerson Theatre) featuring all live music. They will also engage with the general public through artist talks, workshops and social dancing events.
About Kimberley and Natasha
Kimberley Cooper is the Artistic Director of Decidedly Jazz Danceworks (DJD) in Calgary, Canada. She has been a part of DJD for over three decades, as a dancer, Resident Choreographer/Artistic Associate and as Artistic Director (2013-present). In 2002, Cooper was named Emerging Artist of the Year by Alberta Dance Alliance, and since 2002, she has created 18 full-length works on DJD. She served as an Artist in Residence during Calgary as Cultural Capital of Canada in 2012 and was awarded Dance Victoria's Crystal Dance Prize in 2014 for her research in Brazil. Cooper has contributed chapters to the books; City of Animals, for University of Calgary's Humanities Department about New Universe, a work she created with American jazz bassist and composer William Parker in 2017 and Rooted Jazz Dance: Africanist Aesthetics and Equity in the Twenty First Century (University Press of Florida, forthcoming).
Natasha Powell is a Toronto native who has been working in the dance industry for 17 years. Her soulful approach to movement that transcends genre can be seen and felt in her dancing, choreography, and teachings. No stranger to the stage, Natasha has collaborated and created over 20 dance works for live performance. As the founder, artistic director, and choreographer for her company HOLLA JAZZ, she created the award-winning show FLOOR'D - the company's first full-length production, presenting historical jazz dances in a new light. The production was nominated for 4 Dora Mavor Moore Awards (including Outstanding Original Choreography by Powell, and Outstanding Production) winner of the Outstanding Performance by an Ensemble, and named one of top 10 dance shows of the recent decade by NOW Magazine.
Inspired by social dances such as jazz, hip hop, and house dance, Natasha shares her love for movement through teaching dance classes and workshops in Toronto and across Canada. She helps individuals find their personal groove, make breakthroughs in their dancing, and ultimately experience joy in their bodies.
Vikram Dasgupta
The Renette and David Berman Filmmaker-in-Residence
FFDN is a dance festival, so why is film important?
When the Covid pandemic shuttered live theatre and dance, filmmakers and dancemakers joined together to bring dance into people's homes and offer their art as inspiration, a memory of connection, a light at the end of the tunnel. At FFDN, original digital content gave the 2020 and 2021 festivals an exceptional cross-country and global reach. We have had the pleasure of partnering with many digital creators - there is lasting impact in their work.
Attendance habits are shifting to include a preference for digital viewership. Audiences encounter FFDN in theatres, but also from their living spaces, and on the go. Film and new technologies offer us innovative means to nurture dance appreciation and foster connections for Canadian talent, unbound by distance and time zone.
As Toronto's premier international dance festival, global perspectives have been integral to FFDN's identity. No one was more central to our ability to maintain international connections across the pandemic than Vikram Dasgupta. First introduced to Artistic Director Ilter Ibrahimof by Renette Berman at a screening of his film Beyond Moving in the Bermans' home, Vik and Ilter bonded over Vik's appreciation for dance as a universal language.
As their conversations deepened, it became apparent that Vik, with his adventurous spirit and generous adaptability, was ideally suited to directing FFDN's 2021 triptych of dance films shot on location - Aszure Barton's Bloom on Malpaso Dance Co (Havana, Cuba); Surupa Sen's Lalita Lavanga on Nrityagram Dance Ensemble (Bangalore, India); and Mthuthuzeli November's My Mothers Son danced with his brother Siphe November (London, UK). This FFDN 2021 Signature Program was the centrepiece of our 2021 hybrid festival.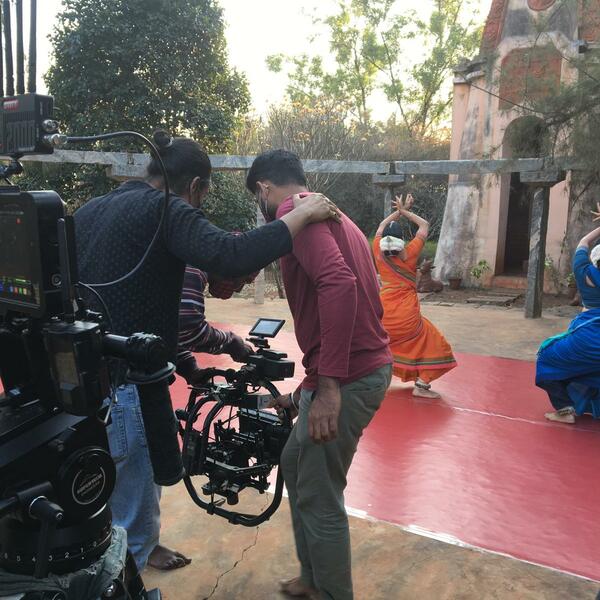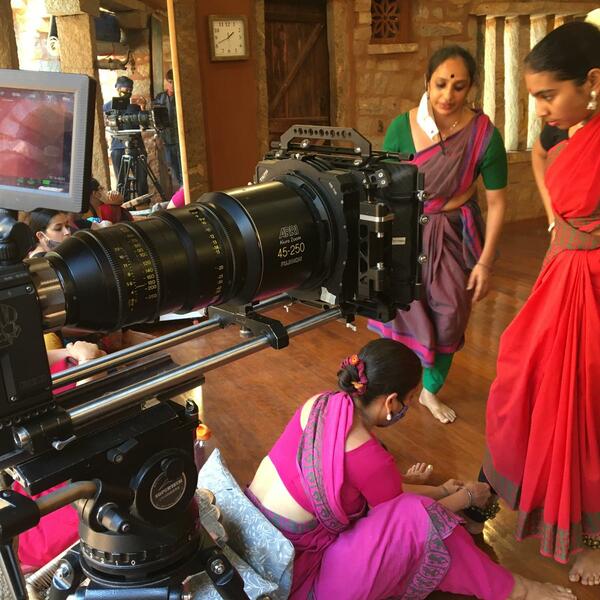 Behind-the-scenes photos from Nrityagram Dance Village near Bangalore, where Lalita Lavanga, performed by Nrityagram Dance Ensemble was captured on film by Vikram Dasgupta for FFDN's 2021 Signature Program.
Filming dance internationally during a pandemic came with many artistic and logistical challenges.
In summer 2021, Havana was roiled by anti-government protests and police questioned Vik and his cinematographer while they were shooting B-roll footage of city life bathed in golden light. Unwilling to accept Vik's explanation that as dance filmmakers they saw dance everywhere, the police confiscated the footage. Unfortunately, it was never returned.
The close contact between dancers, choreographers, and film crews that is inherent to the form was impacted by each country's differing and continuously shifting health and safety regulations. In fact, Vik had just traveled to India to visit family and film Lalita Lavanga in the Nrityagram Dance Village, when India locked down due to a deepening Covid wave. Vik was then unable to travel to the UK and had to direct My Mother's Son remotely over Zoom. As Vik explained later, the shots he chose - juxtaposing the intense personal connection of the two brothers with the sweeping surroundings of the historic Battersea Arts Centre - were influenced by his personal family experience a world away.
Back in Canada by fall 2021, Vik further showcased his versatility directing the 60 minute live-to-air performance of Guillaume Côté's Dix, which opened FFDN's 2021 digital collection. Meticulously charted, the 80-page, multi-camera shot list demonstrates the careful eye and level of precision required to effectively infuse the permanence of film with the ephemeral beauty of live performance.
Dasgupta says he hopes such programming can make dance accessible to more viewers.
The whole idea is to have art in our diets," he (Dasgupta) says. "When I got into filming dance, I wanted to film from a dancer's perspective – knowing full well that I could get in the way, but if I could choreograph my camera around them, I could get into what it feels like to be on stage. ... If I, being somebody who is not a dancer, can understand it a little bit, then anybody can. It belongs to everybody.
- Globe and Mail
October 16, 2021
As FFDN navigates a hybrid course of in-person and digital presentation, Vik is a major artistic contributor to a project that reflects our vision for the future: FFDN's 2022 creative campaign. It is the new look of the festival and an aesthetic that inherently communicates the interplay of film across our dance festival programming.
FFDN is grateful to Renette and David Berman for their vision and continued interest in the evolution of film's impact on our dance festival.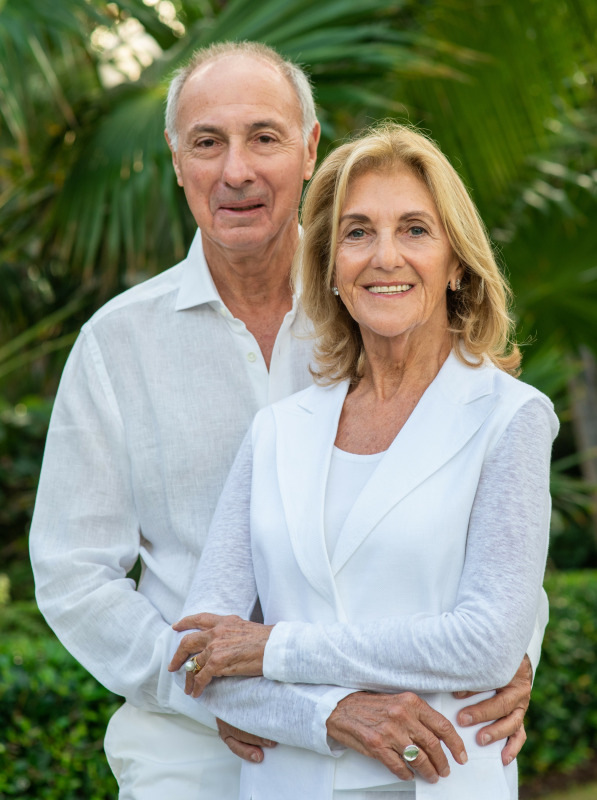 Film is a singularly impactful art form. It transcends all barriers providing a vantage point like no other medium. It helps to nourish one's soul, inspires and motivates one to dream and aspire to partake of the best of Life's offerings. We are grateful to be part of this bold initiative.
Renette and David
In recognition of his innovative contributions to FFDN, we are honored to name Vikram Dasgupta as The Renette and David Berman Filmmaker-in-Residence 2021-2022.
Vikram Dasgupta's three short films that comprised the 2021 Signature Program, and his full-length Dix, will be added to the permanent catalogue of FFDN's Official Streaming Partner Marquee TV.
About Vikram Dasgupta
Born in New Delhi, India into a family of artists, musicians, dancers and scientists and yet Vikram's biggest influence was his grandmother's storytelling. A gold medalist in Fine Arts from Kolkata University, Vikram then came to Canada to pursue cinema.

His short film, the multi award winning Calcutta Taxi funded by Bravofact! and NFB Canada, was in the races for the Academy Awards in 2014 after winning the Oscar Qualifier at the Aspen ShortFest 2013 and was screened at over 50+ festivals worldwide. Vik's commercial on Paralympians for the Pan Am TO2015 titled 'Are you ready' was nominated for the Cannes Lions in the Film category. His debut feature documentary Beyond Moving premiered at the HotDocs theatre in February 2020 with theatrical and VOD distribution through Blue Ice Docs. His recent feature documentary Dog-Ma - is a deeply personal journey about his mother feeding 500+ stray dogs on the streets of Delhi.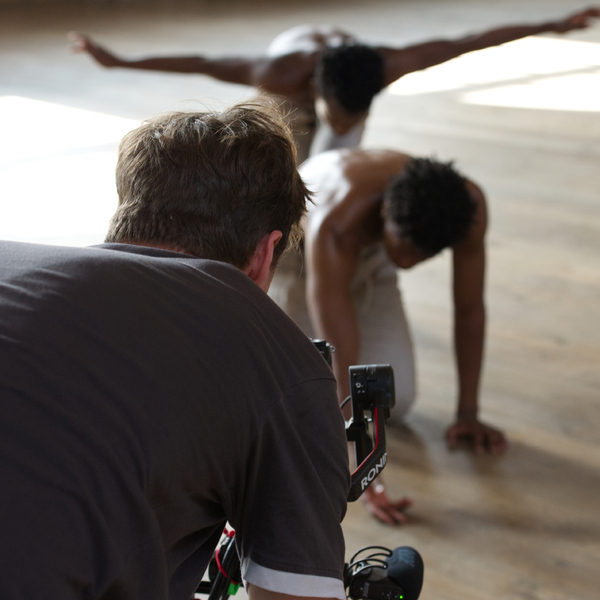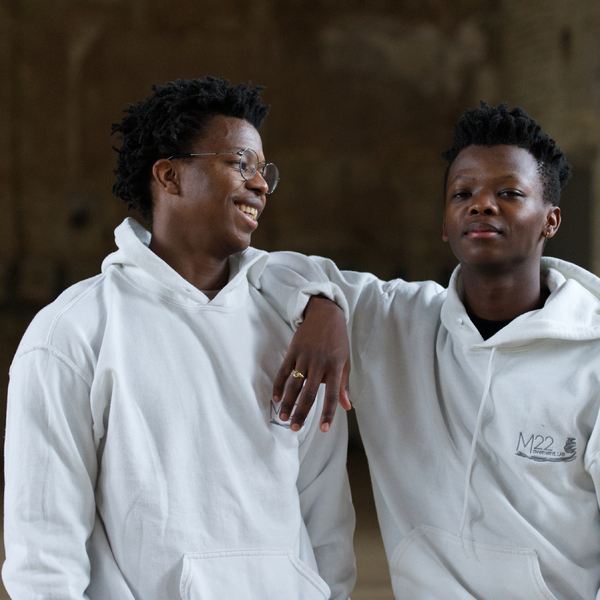 Behind-the-scenes photos from My Mother's Son, performed by Mthuthuzeli & Siphe November, captured on film by Vikram Dasgupta at the Battersea Arts Centre in London UK, for FFDN's 2021 Signature Program